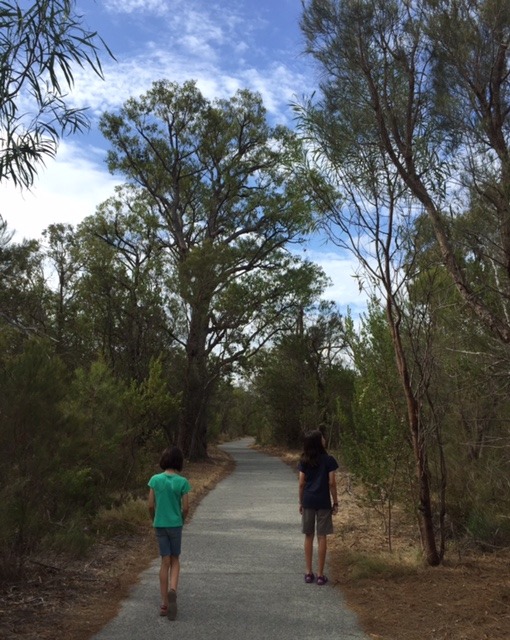 "And now let's hear from Alastair, a Year Eight student. He enjoys math and rugby."
Alastair walks up to the podium and thanks us all for coming. He is tall, blond and tan, wearing a white dress shirt, necktie, and shorts. "I love it here. I've learned loads from every subject. There's heaps of sports and clubs."
"Thank you Alastair. Next up is Anjali. Anjali wants to be a scientist. She lives in the country and travels more than an hour each way to school."
"I used to think I had the IQ of a pear. It turns out, pears are quite smart," Anjali giggles. As she returns to her seat, I notice her shiny black braid cascading all the way down her back. My mind wanders. Does Anjali need to wake up even earlier to do her hair, or does she braid it on the train?
The Year Eight String Quartet starts playing Vivaldi's Spring. I decide that Anjali does not braid her hair on the train.
If we are still living in Perth next year, my daughter will start secondary school in Australia. Having ruled out girls-only and religious schools, we are left with few options. Today I am visiting the Perth Modern School ("Mod"), a magnet public school close to home.
Mod's tagline is "Exceptional schooling. Exceptional students," a sharp contrast to Australia's tall poppy syndrome, the tendency to belittle others' skills and accomplishments. The campus is large and grassy. The students wear blazers and lug heavy backpacks across a courtyard. The school is funded by the state. Teachers are paid well and there are ample resources and activities.
The principal approaches the podium and looks out at the crowd of apprehensive parents. She tells us not to worry about the three-hour exam our children will be taking next month. "It's designed to be hard. Just make sure they have breakfast." She exudes warmth and strength. I can equally imagine her teaching an art class for seniors or running a country.
As she's talking about the school's curriculum, photos are projected on a screen behind her. Kids in front of blooming cherry blossoms! Kids on a trip to NASA! Kids on stage in pirate shirts! Kids with seeing-eye dogs! Kids in the library!
I glance down at my information packet and see the phrase, "Delivering leading edge learning to gifted students." I think about raising my hand and asking what leading edge learning means but decide I don't care that much, and anyways, I would probably sound like a dick.
The quartet plays again. More Vivaldi. I check my calendar. Tomorrow I'm visiting a tiny private school that provides each student with a laptop and something called a "personalized learning plan."
Everyone starts clapping. I skip the morning tea and walk to my car. I have an urge to pick up my daughter from school and take her to the beach. We could play in the waves and dig a hole. We could make a big mess.