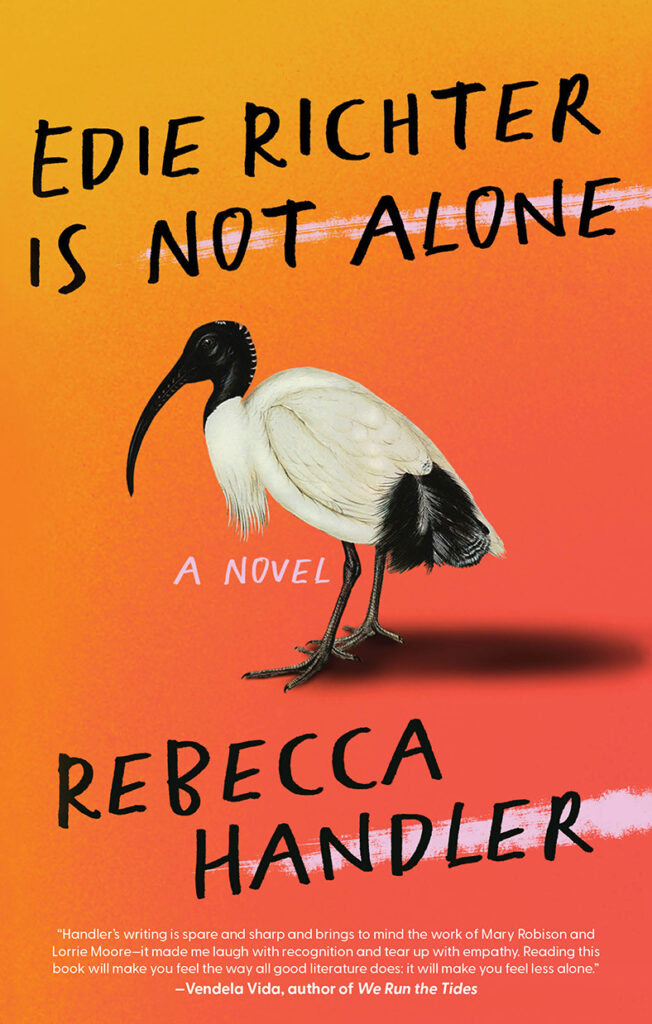 Rebecca Handler's debut novel
Synopsis
Funny, acerbic Edie Richter is moving with her husband from San Francisco to Perth, Australia. She leaves behind a sister and mother still mourning the recent death of her father. Before the move, Edie and her husband were content, if socially awkward―given her disinclination for small talk.
In Perth, Edie finds herself in a remarkably isolated yet verdant corner of the world, but Edie has a secret: she committed an unthinkable act that she can barely admit to herself. In some ways, the landscape mirrors her own complicated inner life, and rather than escaping her past, Edie is increasingly forced to confront what she's done. Everybody, from the wildlife to her new neighbors, is keen to engage, and Edie does her best to start fresh. But her relationship with her husband is fraying, and the beautiful memories of her father are heartbreaking, and impossible to stop. Something, in the end, has to give.
Written in clean spare prose that is nevertheless brimming with the richness and wry humor of the protagonist's observations and idiosyncrasies, Edie Richter is Not Alone is Rebecca Handler's debut novel. It is both deeply shocking and entirely quotidian: a story about a woman's visceral confrontation with the fundamental meaning of humanity.
Oh how I love this book. I finished Edie Richter Is Not Alone in one sitting, then reread it immediately. Hilariously heartbreakingly honest on every page, Rebecca Handler's novel is that rare thing: a perfect book.
Pulitzer-Prize winning author of
Less
Rebecca Handler's debut novel Edie Richter is Not Alone features a witty protagonist in the midst of an emotional and physical journey to Western Australia. Handler's writing is spare and sharp and brings to mind the work of Mary Robison and Lorrie Moore—it made me laugh with recognition and tear up with empathy. Reading this book will make you feel the way all good literature does: it will make you feel less alone.
Author of
The Diver's Clothes Lie Empty
Edie Richter is Not Alone begins with a great, unaccountable tension that explodes into a terrible, hidden act. The narrator's relentlessly clear, enigmatic, funny, suddenly gorgeous observations carry us through its consequences. I found myself immersed, and compelled to read and discover along with the narrator herself what happened to this oddly ordinary wife and daughter, who in her stunned grief resembles all of us. This is a remarkable debut, and a jewel of a book."
Author of 'Why Poetry' and 'Come on All You Ghosts'
The gently hilarious, exquisitely observant Edie Richter narrates the experience of complicated grief with brutal accuracy. 'My body was a collection of muscles and bones and a thing I had done,' she observes, in one of many brilliantly simple sentences. This novel's deep impact belies its marvelously deft touch.
A tragicomic exploration of the collateral damage of Alzheimer's disease… Handler gets it right from the title on out. Edie is definitely not alone. Her plight is one many readers will respond to deeply and perhaps even be soothed by… Profound yet often quite funny, keenly observed, and deeply affecting
Handler's Edie joins the ranks of unforgettably eccentric, intelligent women protagonists, such as the titular character in Gail Honeyman's 'Eleanor Oliphant Is Completely Fine' and Eleanor Flood in Maria Semple's 'Today Will Be Different'.
Edie's increasingly unpredictable behavior reaches its crescendo with a heartbreaking climax, and along the way, the author explores not merely Edie's guilt, but the complicated feelings over her loss. This quick, engrossing novel brings laughter and tears.